Heavy Duty Trailer Jockey Wheel Assembly With Rubber Wheel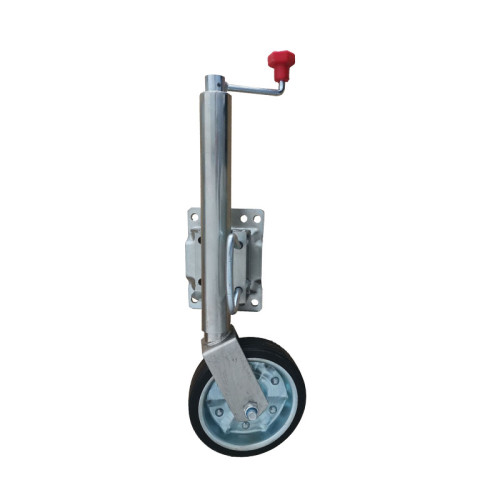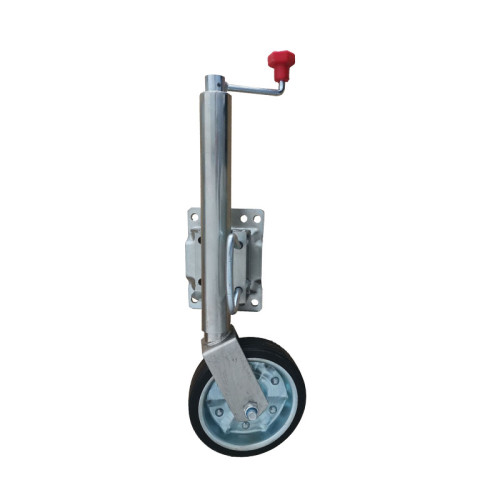 SPECIFICATION
| Capacity | Wheel Size   | Retracted Height | Extended Height | Tube Size  | Surface Treatment |
| --- | --- | --- | --- | --- | --- |
| 350LBS | 8'' rubber wheel | 600mm | 830mm | φ48mm | Zinc Plating |
| 350LBS | 8'' rubber wheel | 520mm | 750mm | φ48mm | Zinc Plating |
| 750LBS | 6'' plastic wheel | 600mm | 830mm | φ51mm | Zinc Plating |
| 1500LBS | 8'' rubber wheel | 640mm | 870mm | φ50mm | Zinc Plating |
| 1500LBS | 8'' plastic wheel | 730mm | 960mm | φ51mm | Zinc Plating |
| 1500LBS | 8'' plastic wheel | 620mm | 880mm | φ48mm | Hot Dip Galvanized |
| 1500LBS | 8'' rubber wheel | 620mm | 880mm | φ48mm | Zinc Plating |
| 2000LBS | 2 x 6'' plastic wheel | 600mm | 860mm | φ57mm | Zinc Plating |
FEATURES
The Trailer Jockey Wheel with capacity of 1500LBS is used on caravan and other heavy duty trailers.
Retracted height of this Trailer Jockey Wheel is 620mm, Extended height is880mm travel 260mm. Surface finish of Trailer Jockey Wheel is zinc plating or hot dip galvanizing.
8 inch rubber wheel and plastic wheel for option. 
Outside tube of Trailer Jockey Wheel is φ48mm and inside tube is φ42mm. 
There are 8 holes on the mounting bracket. It make it possible to used on different sizes of trailer tongue. 
The biggest feature is swivel design. Just pull the handle and it can go in and locks jack into position whether we've got it in the upright or in the stored position.
PRODUCTS DISPLAY
package












Leave a message you can get

1.Free sample of one products
2.Free drawings based on your requirement
3.Catalogue of all our products
4.Your inquiry will be replied within 2 hours during working time.
Click To Know More
Contact Us To Get Price Now
If you would like to know more about our products and services, complete the form below, and we will contact you as soon as possible to discuss your requirements.