Tandem Axle Boat Trailer Leaf Springs Kits Rocker Trailer Leaf Springs Wholesale Manufacturer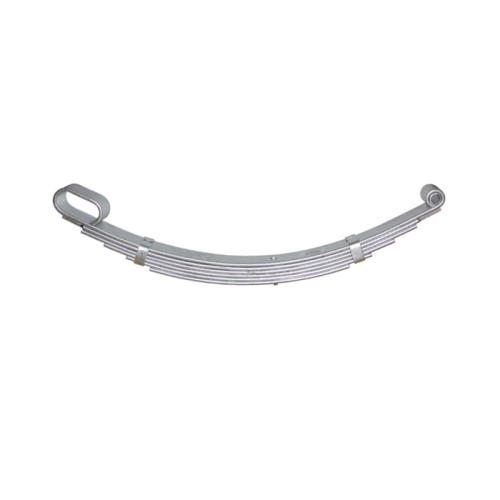 Tandem Axle Boat Trailer Leaf Springs Kits Rocker Trailer Leaf Springs Wholesale Manufacturer



SPECIFICATION
| Capacity (For tandem trailer) | Size | Length | Free Camber | Surface Treatment  |
| --- | --- | --- | --- | --- |
| 2000 KG | 60mm x 7mm x 5 leaf  | 700mm | 144mm | Black Painted |
| 2500 KG | 60mm x 7mm x 6 leaf  | 700mm | 144mm | Black Painted |
| 3000 KG | 60mm x 7mm x 7 leaf  | 700mm | 144mm | Black Painted |
| 3500 KG | 60mm x 7mm x 8 leaf  | 700mm | 144mm | Black Painted |
FEATURES
Haway supply a wide range of Boat Trailer Leaf Springs. Our leaf springs are made of high quality material and they are strong and durable. 
All slipper springs used on boat trailers are Dacronet surface treatment to provide more resistance against salt water. 
Length of Boat Trailer Leaf Springs is the distance from central of eye to the other end. 
Weight capacity is based on tandem axle design.
Above information are our common models. We accept custom products too.
Rocker Roller Boat Trailer Leaf Springsg are mainly used on tandem or tri axle trailers. The Leaf spring is designed to flex to absorb road shock and provide a nice smooth ride. 
Rocker roller leaf spring will help reduce wear and tear on your trailer and make your trailer travle a level ride on bumpy and uneven roads.
WHY CHOOSE DACROMET SURFACE FINISH
Dacromet is the leading inorganic coating commonly specified in the wind turbine, heavy truck, marine, agricultural, construction equipment and aerospace industries. A water-based, VOC-compliant coating, dacromet is comprised mainly of overlapping zinc and aluminum flake in an inorganic binder. 
Leaf spring surface cannot be hot-dip galvanized. However, Leaf springs used on boat trailers are often immersed in water and require high corrosion resistance. In order to make surface of boat trailer leaf spring more resistant to corrosion, we choose Decromet. 
Decromet's surface treatment  is much more corrosion-resistant than painted. Under the same environment, Decromet leaf spring can be used longer time.
PRODUCTS DISPLAY
package






Leave a message you can get

1.Free sample of one products
2.Free drawings based on your requirement
3.Catalogue of all our products
4.Your inquiry will be replied within 2 hours during working time.
Click To Know More
Contact Us To Get Price Now
If you would like to know more about our products and services, complete the form below, and we will contact you as soon as possible to discuss your requirements.