Eye to Eye Boat Trailer Leaf Springs Galvanized Trailer Wholesale Manufacturer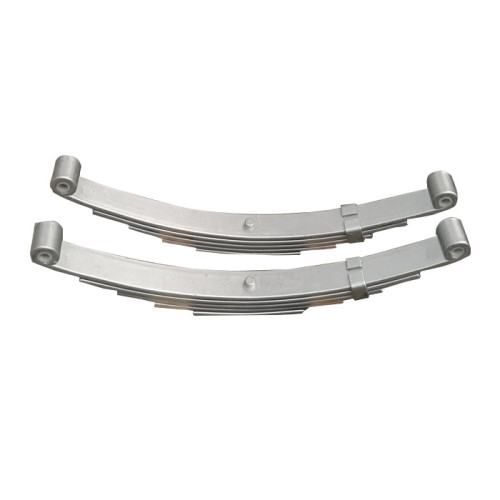 Eye to Eye Boat Trailer Leaf Springs Galvanized Trailer Wholesale Manufacturer



SPECIFICATION
| Capacity  | Size | Length | Free Camber  | Surface Treatment  |
| --- | --- | --- | --- | --- |
| 1350 KG | 45mm x 8mm x 5 leaf  | 710mm | 105mm | Dacromet |
| 1450 KG | 45mm x 8mm x 6 leaf  | 710mm | 105mm | Dacromet |
| 1800 KG | 45mm x 8mm x 8 leaf  | 710mm | 105mm | Dacromet |
| 1105 KG | 60mm x 7mm x 5 leaf | 700mm | 120mm | Dacromet |
| 1350 KG | 60mm x 7mm x 6 leaf | 700mm | 120mm | Dacromet |
| 1530 KG | 60mm x 7mm x 7 leaf | 700mm | 120mm | Dacromet |
| 1720 KG | 60mm x 7mm x 8 leaf | 700mm | 120mm | Dacromet |
| 2000 KG  | 60mm x 7mm x 9 leaf | 700mm | 120mm | Dacromet |
USAGE AND INSTALLATION
Eye to Eye Boat Trailer Leaf Springs also called double-eye leaf springs is designed to flex to absorb road shock and provide a nice smooth ride. Leaf spring will help reduce wear and tear on your trailer. Leaf spring can make your trailer travle a level ride on bumpy and uneven surfaces. Double leaf spring can be used on tandem or trip axle trailer too. 
Eye to Eye Boat Trailer Leaf Springs are mounted to trailer frame by spring hangers and shackle straps. The front eye is mounted to trailer front spring hanger. They rear eye is attached to spring shackles that are suspended from the rear hanger. These straps make it possible for leaf spring to move and pivot so that can better compensate for uneven pavement. 
If used on tandem trailers the equalizers are needed to connecting two springs. 
Leaf spring equalizer and shackle strap are available with us. Please check our website or leave a message with us. We will recommend right products for you
FEATURES
Haway supplies a wide range of boat trailer leaf springs. Our leaf springs are made of high quality material and they are strong and durable. 
Surface finish of leaf spring is black painted or Dacromet, which is widely used on boat trailers.
Trailer leaf spring allow flexibility to absorb road shock and ensure a level ride on uneven road.
Our company manufacture trailer parts since 2002 and won customer recognition with high quality products.
Customer's design or requirement are acceptable.
PRODUCTS DISPLAY
package












Leave a message you can get

1.Free sample of one products
2.Free drawings based on your requirement
3.Catalogue of all our products
4.Your inquiry will be replied within 2 hours during working time.
Click To Know More
Contact Us To Get Price Now
If you would like to know more about our products and services, complete the form below, and we will contact you as soon as possible to discuss your requirements.